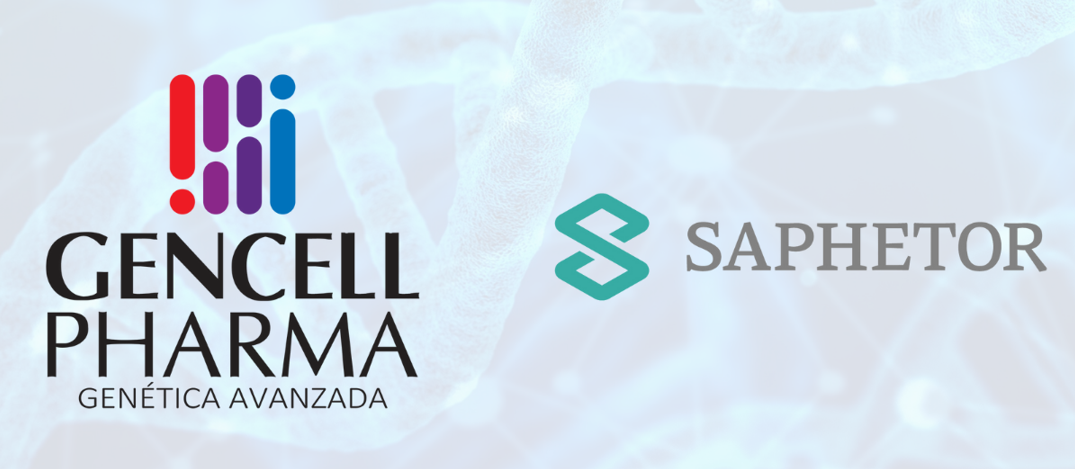 Lausanne, Switzerland - March 29, 2022 - Saphetor SA, a Switzerland-based precision medicine company recognized for its industry leading variant interpretation platform VarSome, announced today a collaboration with Gencell Pharma S.A.S., a leading provider of technology, reagents and comprehensive innovative solutions tailored to the health sector in Colombia and LATAM (Latin America).
Gencell Pharma has adopted VarSome Clinical, Saphetor's CE-IVD-certified platform for high-throughput analysis of NGS data. VarSome Clinical will be used to interpret clinical exome and whole genome data generated by Gencell Pharma's fleet of MGI DNBSEQ-G400 and DNBSEQ-T7 sequencers. This partnership enables Gencell Pharma to scale up and automatize the whole NGS analysis directly from the raw FASTQ data through its application programming interface (API), which in turn significantly increases the data-to-report processing time.
Saphetor has become a preferred partner for NGS data analysis for organizations around the world. This is due to the power of the VarSome Molecular Database that harmonizes and integrates over 130 genomic data sources, over 38 million publications, and unique annotations and links from over 400 000 VarSome users. As a company, Saphetor is committed to delivering the most powerful variant interpretation platform with the highest adherence to data privacy and security. This is evidenced by their CE-IVD mark, and their ability to work with global clients to adhere to local data regency requirements.
Fabio Andres Zapata Gomez, CEO of Gencell Pharma S.A.S., said: "VarSome Clinical has allowed us to scale up the data analysis part of our high-throughput sequencing workflow leveraging MGI sequencers and speed up the delivery of results to patients".
Marcela Galvez, Medical and Scientific Director of Gencell Pharma S.A.S., said - "

A single MGI DNBSEQ-T7 is capable of sequencing about 380 whole exomes per run in less than 48 hours, and about 64 whole human genomes in less than 72 hrs, which can pose a significant challenge when it comes to data analysis and reporting. I am pleased that Gencell Pharma has found a trusted partner who can support the data analysis of such a large-scale sequencing operation."

Carlos Martínez, North LATAM Sales Manager of MGI, said: "The MGI platforms together with DNBseq technology makes it easy to go further in the field of precision medicine and healthcare. MGI is one of the companies in the world that have the ability to independently develop and mass-produce clinical high-throughput gene sequencers. Providing real-time, comprehensive, lifelong solutions, its vision is to lead life science innovation."
Andreas Massouras, CEO of Saphetor SA, commented: "We are thrilled to partner with Gencell Pharma. We are proud to deliver our state-of-the-art solutions for large-scale analysis of NGS data, and we are fully committed to Gencell's success in the clinical diagnostic space in Colombia".
About Gencell Pharma S.A.S.
Gencell Pharma is a health company focused on molecular biology and genetic services in Colombia and LATAM region, with an experience of more than 11 years in the field. With two molecular laboratories located in Bogota, Colombia, Gencell has a current capacity of processing, analyzing and reporting about 800 whole exome sequencing and 280 whole genome sequencing cases per month.
About Saphetor SA
VarSome is the emerging global standard platform for human genome data. Varsome.com is the world's largest community and knowledge base for human genome variant data, and VarSome's Premium, Clinical and API tools enable anyone and any organization, from individual healthcare professionals to hospitals and pharmaceutical companies, to harness and apply the power of this community and data to improve health and lives worldwide. VarSome is created by Saphetor, a Switzerland-based precision medicine company using bioinformatics to apply human genome data to benefit people.