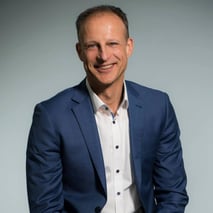 Saphetor Sa, A Swiss precision medicine company and creator of the VarSome suite of bioinformatics solutions, today announced the appointment of Maarten Kempen as Chief Commercial Officer, effective February 1st, 2023. Kempen will be responsible for global commercial strategy and activity as Saphetor continues its expansion into key markets.
"Saphetor has experienced a period of sustained growth and global expansion due to increased demand for powerful and flexible NGS data analysis solutions in clinical healthcare around the world." said Andreas Massouras, CEO and founder of Saphetor SA. "Maarten's expertise and experience leading cross-functional international commercial teams, as well as his extensive market knowledge, will help us to fulfill our ambitious plans to help make true precision medicine a reality around the world.
Kempen joins Saphetor from Illumina, where he was most recently Director of Clinical Sales EMEA. During his 7 year tenure he provided strategic direction and leadership to drive sales of key solutions pertaining to Reproductive & Genetic Health and Rare Diseases.
Prior to Illumina, Kempen was Territory leader Central Europe at PerkinElmer. During his 19 year at PerkinElmer Inc., he held critical positions focused on the company-wide cross-functional and cross-territory cooperation to drive sales, product launches, and team- and organizational development. Before PerkinElmer, Kempen held roles with EG&G Wallac and Eurogenetics/Tosoh.
"It's an exciting time to be in the genomics world with many new discoveries, new product launches, and new entrants looking to disrupt a fast growing market. Saphetor has built a great reputation through VarSome.com, which is now the leading platform for human genome variant information relied upon by researchers, and healthcare professionals, around the world. The VarSome product portfolio is well differentiated through its superior annotation capabilities, flexible deployments, and leadership in regulatory compliance. This offers the company a unique opportunity to deliver what the market really needs and delight customers with solutions capable of advancing healthcare" said Kempen. "I look forward to working with Andreas and the talented team at Saphetor to capitalize on this opportunity, helping to strengthen our global footprint and accelerate the company's growth."
About Saphetor SA
Saphetor SA, is a global precision-medicine company dedicated to large-scale identification and interpretation of human genetic variants by leveraging proprietary algorithms and expert domain knowledge.
Saphetor is the creator of VarSome, a suite of intuitive and data-driven bioinformatics solutions both for clinicians and researchers. VarSome.com professional community and search engine is freely accessible, featuring a widely-recognized community-driven knowledge base that enables flexible queries across more than 140 genetic and genomic data resources.
VarSome Premium and VarSome Clinical are professional editions of VarSome with powerful functionality and further sophisticated data-mining and analysis tools. VarSome Clinical is a CE-IVD-certified and HIPAA-compliant platform allowing fast and accurate variant discovery, annotation, and interpretation of NGS data for whole genomes, exomes, and gene panels, which helps clinicians reach faster and more accurate diagnoses and treatment decisions for genetic conditions. VarSome can also be integrated into existing in-house pipelines via VarSome API through cloud-based or on premises installations.