Back to main Blog

Head of Strategic Alliances & Channel Partners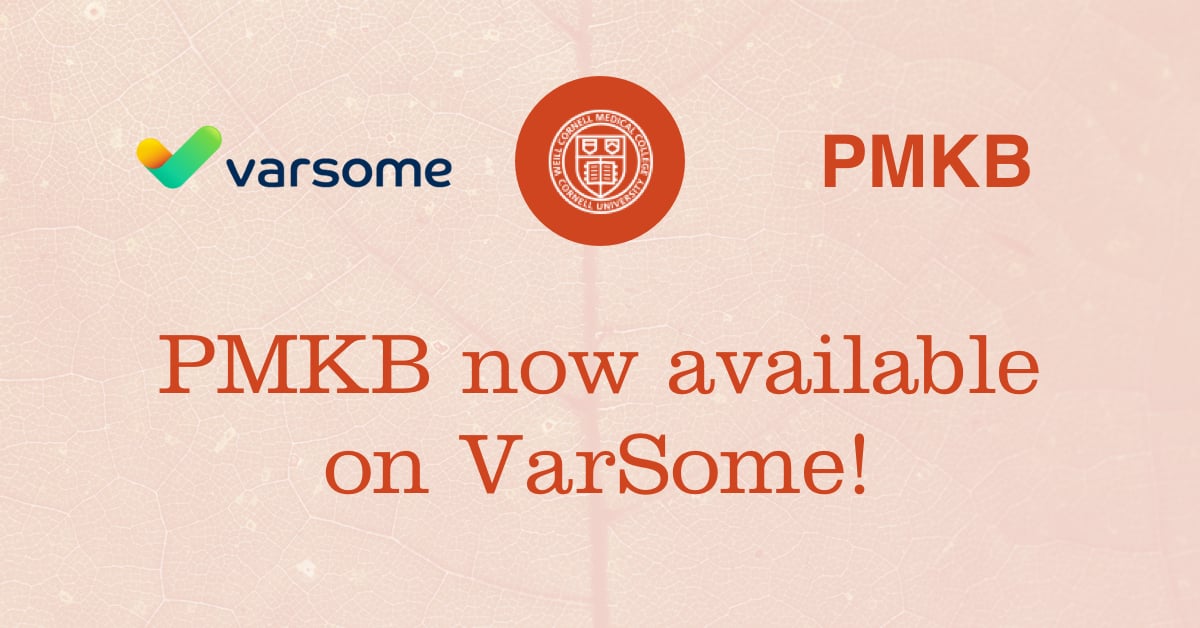 New York and Lausanne, Switzerland - January 10, 2019 - Saphetor SA, the creator of VarSome, announced today a partnership with the Englander Institute for Precision Medicine at Weill Cornell Medicine, the creator of Precision Medicine Knowledgebase (PMKB), a curated resource for the clinical interpretation of cancer variants [1]. PMKB is now a fundamental component of VarSome's portfolio of over 30 integrated and cross-referenced public data resources as well as VarSome's implementation of the American College of Medical Genetics guidelines.
Prof. Andrea Sboner, Ph.D., said:
'We are excited that PMKB is now available on VarSome as it does an excellent job bringing fragmented and disparate sources of information on genetic variants together into a cohesive interface, enabling rapid and efficient interpretation of genomic alterations'.
Andreas Massouras, CEO and Founder of Saphetor SA, commented:
'We are delighted to count Weill Cornell Medicine among our partners, bringing such a great resource as PMKB to VarSome, for the benefit of the global community of researchers, molecular pathologists, and clinical geneticists and oncologists who use VarSome every day.'
PMKB is a project of the Englander Institute for Precision Medicine (EIPM) at Weill Cornell Medicine in New York City [2]. PMKB is organized to provide clinical interpretations of cancer variants in a structured way. Importantly, interpretations of genomic variants are defined in the context of cancer types. Registered EIPM users can submit and edit existing entries for the continued growth of the knowledge base, while all changes are reviewed and approved by molecular pathologists.
Saphetor SA is a Swiss precision-medicine company dedicated to large-scale identification and interpretation of human genetic variants by leveraging proprietary algorithms and expert domain knowledge [3]. Saphetor is the creator of VarSome, a suite of intuitive and data-driven bioinformatics solutions both for clinicians and researchers [4]. VarSome search engine is freely accessible, featuring a widely-recognized community-driven knowledge base that enables flexible queries across more than 30 genetic and genomic data resources. VarSome Pro and VarSome Clinical are professional editions of VarSome with powerful functionality and further sophisticated data-mining and analysis tools. While VarSome Pro serves primarily researchers, VarSome Clinical is a clinically-accredited platform allowing fast and accurate variant discovery, annotation, and interpretation of NGS data for whole genomes, exomes, and gene panels, which helps clinicians reach faster and more accurate diagnoses and treatment decisions for genetic conditions.
References: