Back to main Blog

Head of Strategic Alliances & Channel Partners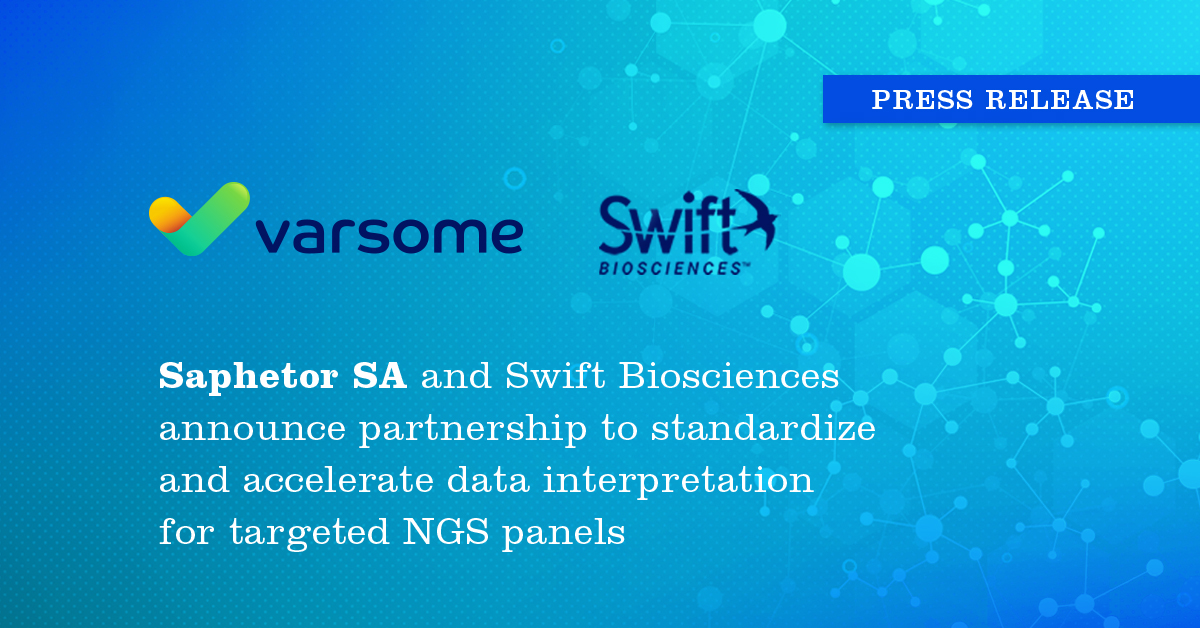 Lausanne, June 12th, 2019. Saphetor SA, a Swiss precision medicine company and the creator of VarSome, a suite of bioinformatics solutions, announced today a partnership with Swift Biosciences Inc., a Michigan company based in Ann Arbor, USA, offering a set of differentiated next-generation sequencing (NGS) products and technologies for genomics, translational, and clinical research applications.
Saphetor's VarSome Clinical, a clinically-certified cloud-based platform empowering fast and accurate variant discovery, annotation, and interpretation of NGS data is now bundled with a number of Swift's NGS-based clinical research targeted gene panels. The validated bundled solution enables biologists, geneticists, and medical doctors to process and interpret sequencing data more rapidly and precisely, using VarSome Clinical's intuitive and feature-rich interface.
Nathan Wood, CEO of Swift Biosciences Inc., said: 'This new partnership helps us to deliver high-quality, state-of-the-art bioinformatics services to our customers, and supports us in our mission to establish genomics as a central element of medicine of today and tomorrow.'
Andreas Massouras, CEO and Founder of Saphetor SA, commented: 'We are very pleased to partner with Swift Biosciences and combine our offerings for the benefit of Swift's rapidly growing number of customers.'
About Swift Biosciences Inc.
Swift Biosciences is the NGS Library Prep company. Based in Ann Arbor, Michigan, the company develops novel library preparation solutions for emerging applications based on next-generation sequencing, including whole genome sequencing, targeted DNA sequencing, and epigenetic analysis. Swift Biosciences' products are designed to help customers analyze challenging biological samples faster, easier, and with greater sensitivity and accuracy, while being compatible with leading instrumentation. Swift Biosciences is the first company to offer library preparation solutions on all three major sequencing platforms, including Pacific Biosciences®, Illumina®, and Ion Torrent™.
About Saphetor SA
Saphetor SA, is a Swiss precision-medicine company dedicated to large-scale identification and interpretation of human genetic variants by leveraging proprietary algorithms and expert domain knowledge. Saphetor is the creator of VarSome, a suite of intuitive and data-driven bioinformatics solutions both for clinicians and researchers. VarSome.com professional community and search engine is freely accessible, featuring a widely-recognized community-driven knowledge base that enables flexible queries across more than 30 genetic and genomic data resources. VarSome Pro and VarSome Clinical are professional editions of VarSome with powerful functionality and further sophisticated data-mining and analysis tools. While VarSome Pro serves researchers, VarSome Clinical is a clinically-accredited platform allowing fast and accurate variant discovery, annotation, and interpretation of NGS data for whole genomes, exomes, and gene panels, which helps clinicians reach faster and more accurate diagnoses and treatment decisions for genetic conditions.